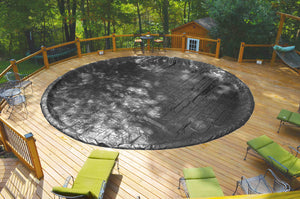 YOU MUST READ ALL TERMS BELOW
Please read carefully to ensure you will be properly prepared and eligible for a warranty.
SWIMLINE POOL COVER POLICY
This cover is warranted to be free of defects in workmanship. Examine your cover carefully before installing. Handle your cover carefully during inspection and installation, as the Manufacturer is not responsible for tears or punctures caused by improper handling.
Cover Programs
WARRANTY COVERAGE
Swimline pool covers are warranted to be free of defects for a period of either four (4), eight (8), ten (10), or fifteen (15) seasons (depending on the warranty program that came included in your cover's package) from the date of purchase on a prorated basis. Replacement under the warranty can be found in chart.
Pool Cover Types